Disclaimer:This website asserts that the medical information found in this page does not amount to medical advices, and if advice is needed, an appropriate professional help should be sought.
---

Indications:
Helps boost immune function against viral infection. Prevention & treatment of vitamin C & zinc deficiencies.
---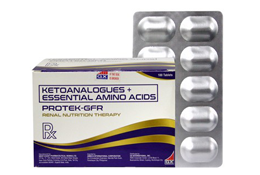 Indications:
Prevention & therapy of damages due to faulty or deficient protein metabolism in chronic renal insufficiency in connection w/ limited protein food of ≤40 g/day (for adults), ie, generally in patients w/ GFR <25 mL/min.
---